What are the Pelplin Books? What makes them so extraordinary?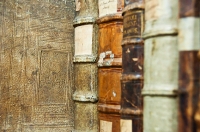 Antique books in Pelplin Library
more >> Pelplin Books and facsimiles (from latin -  fac simile "do alike") are faithful copies of manuscripts, incunables and antique books that are created with remarkable precision, owing to the combination of a longstanding bookbinding and decorative tradition and state of the art printing techniques.The Orbis Pictus team of experts and appraisers incessantly searches through priceless book collections all around the world to find unique titles.Next, using complex printing processes, aided by scientists and the huge expertise and passion of experts in different fields, we create a faithful copy of the given work – a facsimile.The font, type of paper, printing technique, binding, watermarks, stamps, and even stains and smudges formed throughout the ages are reproduced with remarkable accuracy and diligence.
Antique books in Pelplin Library
more >> The value of a carefully selected title and workmanship are what makes our books extraordinary. Some say that books have soul – Pelplin Books have a soul and a heart. They are a faithful reproduction of the original. Pelpin Books are featured in the collections of enthusiasts and bibliophiles alike. In the modern world they are truly unique investments. Their value is further increased by limited print-runs that make Facsimile Books true cimelium.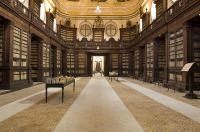 Libraries
more >> This worldwide collector's trend, somewhat of a vogue for collecting facsimiles has also made its way to Poland. For many years art collectors all around the world, lured by the echoes of the past, have been collecting Facsimile Books. Immediately after publishing, Facsmile Books have been attaining significant values on the market. These works are treasured not only for the fact that they are invaluable, but also because the originals are virtually inaccessible to the average reader and could only be accessed by a handful of researchers.

You are welcome to further reading our website where we take You on incredible journey through the centuries. You will learn more about our books, how they are created, what makes them so sought after and what is it that makes them the showcases of the libraries of Vatican, Royal collections, collections of the heads of states and the bookshelves of exclusive antiquarian bookstores in New York, Amsterdam, Vienna, Bologna and Tokyo.
We give you a unique opportunity to join this exclusive circle.