Johann Gabriel Doppelmayr, Atlas Coelestis, Nuremberg, 1742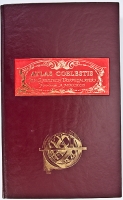 Binding - Front
more >>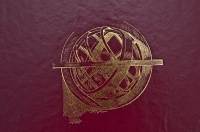 Binding - Stamping
more >> Facsimile of "Atlas Coelestis In quo Mundus Spectabilis" by Johann Gabriel Doppelmayr (1677-1750)published by the publishing house of Johann Homann in Nuremberg in 1742.
Johann Baptist Homann (1664-1724), a former monk of the Dominican Order in Oberkammlach in Swabia, in 1688 he settled in Nuremburg and became a map engraver for the publishing houses of Jacob von Sandrart and David Funck. In 1702 Homann founded an influential cartographic publishing house which he run until the end of his days. His work was continued by his son, Johann Christoph Homann (1703-1730), and following his death by his friend Michael Franz (1700-1761) and Johann Georg Ebersberger (1695-1760). under the name "Homnnische Erben". The publishing house, under different names, remained in business until 1848. The author himself – J.G. Doppelmayr was a German mathematician, astronomer, cartographer, professor of mathematics and astronomy at the Aegidien-Gymnasium from 1704 until his death.He was also famous as a researcher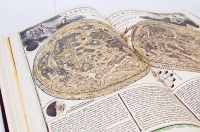 Atlas Coelestis
more >>  and expert in clocks, especially sundials.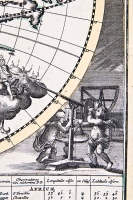 Atlas Coelestis
more >> Doppelmayr died on 1 December 1750 in Nuremberg. Some sources claim that his death was caused by a powerful electric shock he received shortly before, while experimenting with a battery of electric capacitors. The crater Doppelmayer on the Moon was named after him, just as minor planet 12622 is also named in his honour.
History
Bonding cards
more >> The original atlas is featured in the collection of the Library of the Nicolaus Copernicus University in Toruń (catalogue number A-640-V).  It contains 32 maps of the sky drafted by the author based on the studies of earlier astronomers: Claudius Ptolemy (100-168), Nicolaus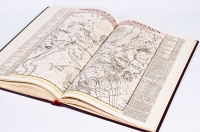 Atlas Coelestis
more >>  Copernicus (1473-1543), Johannes Kepler (1571-1630), Tycho Brahe (1546-1601). All these personalities were commemorated on the bastard-title page and captured in their characteristic poses with measurement instruments. In his work the author gathered the results of his life searches and passions. The copperplates were impressed on smooth cotton paper which was additionally hand-colored. The last two maps were added to the copy six years later and present the position of the Sun and Earth as at 25 July 1748.
The Atlas is bound in calfskin, incrusted with a goatskin gusset with the title and name of the author gilded.                                                                                                                       
Specification
Johann Gabriel Doppelmayr, Atlas Coelestis In quo Mundus Spectabilis, Nuremberg, 1742
Dimensions: 315 x 515 x 40 mm
Number of folios: 64
Paper: cotton paper, smooth
Binding: boards, leather, blind-stamps, (binding could be different from what you see on the pictures)
Packaging: Not foreseen
Limited print-run: 294 copies. Available: less than 49 copies
Price: 1500€