Geert Groote, Getijdenboek,
Netherlands

, 15th century
Geert Groote
more >>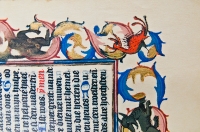 Illumination with gilding
more >>
Facsimile from the library of the Nicolaus Copernicus University in Toruń, catalogue number: Rps 83/I, written in the middle of the 15th century. It was written on parchment. It includes two artistically consistent parts:

1. Kalendarium der Diozese Utrecht.
"Januarius loumaet due heuet XXXI dage die mane XXX. Jares dach. Siluester bisscop"

2. Geert Groote, Getijdenboek.
"Hier begint ons[er] vrouwe[n] getide. Here doe op mine lippe[n]. in alre tonghen menich foudicheit uergader heues in eenheit des ghelouen.
Recreate Clasp
more >>  Lo[uet bladelike den heren]" - the text in the manuscript is cut; it was completed on the basis of literature.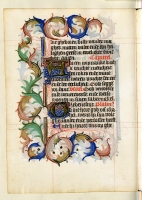 Floral Border
more >> The book was written by one copyist using Bastarda font. It contains a lot of (almost each sheet) unique and very beautiful, colourful and golden initials, as well as borders, with floral and figural decorations. These all indicate the Renaissance culture's clear influence.
The cover is characteristic of the time in which the manuscript was written: a board, brown embossed leather, and two brass clasps protecting the book against dust and sheet deformation.
The language used in the book suggests that the breviary was made in the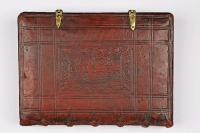 Binding
more >>  eastern Netherlands, probably in the Utrecht district. The cover was probably made by a bookbinder named Jacobus, as the writing on the bottom part of the cover suggests. In 1687 the book, along with other books, was taken over by the National and University Library in Królewiec.
Specification
Geert Groote, Getijdenboek, Netherlands, 15th century
Dimensions: 145 x 200 x 35 mm
Number of folios: 129
Paper: pergamenata 115 g/cm2
Binding: boards dressed in blind-stamped leather, closed with two brass clasps, (binding - in this case packing- could be different from what you see on the pictures)
Packing: wooden box with jute padding; dimensions: 240 x 315 x 50 mm
Limited print-run: 199 copies. Available: SOLD OUT
Price: 1680€